First of all, i'd like to start off by saying I don't blog enough….there is so much to update you on since the last blog! So to fill in the blanks, let me give you a bullet point list of what has happened:
1) I finished marathon training and ran a 3:14….not the target time I was shooting for
2) I had a week off, got quite ill, got better again then got ill again
3) Things are only just starting to get back to normal.
For more info, everything has been documented over on my YouTube channel – https://www.youtube.com/c/TheFODRunner
Now we are up to date, let me fill you in on where things are at right now and what my thoughts are leading into summer training.
Even before I take my first step starting a marathon training block, in my head I know straight after the goal race I will drop back down the distance ladder.  It's just the way I do things, i've been in a position where after my first marathon I tried to get back into long distance work and I totally lost my spark, mojo, energy, whatever you want to label it.  It took a while but I found that changing focus really helped me gain some momentum again and since that day I have always taken this tactic after marathon training.
This thought process hasn't changed and what i've found over time is that buzz for speed gets stronger…so ultimately, the second my marathon journey ended, the need for speed was at the forefront in my mind.
So as a lead into summer training, i've started off the weeks on lower mileage due to some illnesses that have struck me down but the speed workouts are back and I couldn't be happier.  There's something about blasting round a track at a pace that's…well…in your own mind…blistering, along with trying to keep things under control enough to finish the session.
It's a far cry from 4 x 15 minute reps during marathon training where you'd just click into and uncomfortable cruise control pace and chug along…. the pace change and shock to the body when you hit the track for a 10 x 2 minute session is frightening but also exhilarating and an adrenaline rush.
I am delighted to be racing again next week….twice!  On Tuesday evening I have the Rose Inn race, which is 4 miles flat roads, a nice speed session and warm up for this weekends Summer Speedway 10k in Chepstow.  I am fully aware that I am not in PB shape right now but just to get racing these shorter distances again excites me and I can't wait to continue the journey throughout the summer before we start marathon training again in the Autumn.
The high's and low's of marathon training…mid plan update
I thought it was about time I put pen to paper…or keyboard in this instance about how marathon training is going.  I'm absolutely loving the video making process at the moment and the marathon training series that i'm producing has to be the most exciting one yet….for me anyway!  However there are always things you can't quite convey via video that are easier to jot down in a written format, therefore I want to give you a quick overview as to how i'm feeling heading into week 8/17 of marathon training.
The first thing I must say is a big thank you to my coach Doug from TMR coaching, he has been working hard, adapting the plan to suit along the way, providing insights into progress, snippets of information on what can be improved and overall encouragement when i've needed it the most.
After a great start in weeks 1 & 2 clocking 45 & 46 miles respectively, I headed into week 3 with an optimism I hadn't felt since this time last year when we were training for the Newport Half Marathon.  For 16 weeks I trained like a beast alongside James without injury, illness or pretty much any issue….insane to think that's possible in the height of winter when you have kids carrying lurgy everywhere they go!
This year was to be different…I started my week off with an easy run on Monday and after that felt very "sinusy", something I wasn't used too as I don't suffer with sinus issues that much.  Thankfully I had the Speedway 10k at the end of that week so I allowed myself time to calm the mileage down and rest.  I took every opportunity to steam breath, use the salt nasal spray and drink as much homemade vegetable soup as possible in a bid to fight off illness.
Sunday came, I felt 90% better and ready to race, we clocked a new 10k PB of 36.17 and I felt like I was ready to jump back on it in week 4.
Yeah…that didn't happen either!
Again, I attempted my easy Monday run, felt great, Tuesday rolled around and I went back down hill again…this time with more "virus" type symptoms such as major fatigue, headaches, sickness etc.  I tackled Tuesday night's fartlek session and that was me down and out for the next week.  I did not run until the following Tuesday.  In my 4 and a bit years as a runner, I haven't been ill enough to take me out of running for that long…coupled with that fact that I was just getting started with marathon training, it just crippled me mentally.
The following Tuesday saw the commencement of week 5 and I did my best to get up and go, starting back with a slower than normal fartlek session.  I took an extra day off (Monday) for precautionary reasons, not wanting to rush things as all I kept thinking whilst I couldn't run was "I don't want to be off for this long again".  The remainder of the week was sluggish but at least we were moving forwards.  I knew it felt like we were starting from scratch but it was good to be training and I wasn't going to take it for granted.  That week ended on 40 miles…a solid amount to return too.
Week 6 is where we finally had lift off…no more excuses, just training and getting back to where we needed to be mileage wise.  Monday was slow and a struggle but that was the last time I can say that about a run until this present day.  Tuesday's session was a belter, I felt alive, I felt like things were working again and my mojo was definitely back!  We finished the week strong and finally hit over 50 miles.
Week 7 followed a similar pattern except for that fact that the Monday run wasn't as sluggish as week 6's.  Both midweek sessions were completed well and then the turning point came on Saturday morning….
I have been doing long run workouts every weekend in a bid to increase my speed endurance and mental strength over the distance…the first 6 weeks have been based around putting "efforts" in on the hills but this week was the week we got more specific, we hit the tarmac.
45 minutes warm up followed by 3 x 20 minutes at half marathon pace (6.05 min per mile) followed by 45 mins cool down.  Now in the previous weeks with similar workouts we've been hitting late 6's / early 7's due to the hills so I anticipated this week…with fatigue, i'd hit around 6.20.
The thing is…I didn't.  My splits ended up being 6.21, 6.15, 6.12!  Now to put this into perspective, the first 8 minutes of each rep were a gentle incline on a rather wet and (in places) muddy trail.  We then peeled out onto the road for the final 12 minutes.  I could see my watch was hovering on 5.55/6.00/6.05 on those sections and it felt amazing!  To hit that speed deep into the plan within the highest mileage weeks i've ever run was an incredible feeling…it all just clicked!
I finished the workout clocking 21 miles and finished the week on 55 as a total.
Overall, it hasn't been the easiest start to a plan i've ever had but ultimately we are now making progress and that for me is key.  I am super keen to push on now into this next part of the plan and really start to dial into marathon pace.
Onwards and upwards….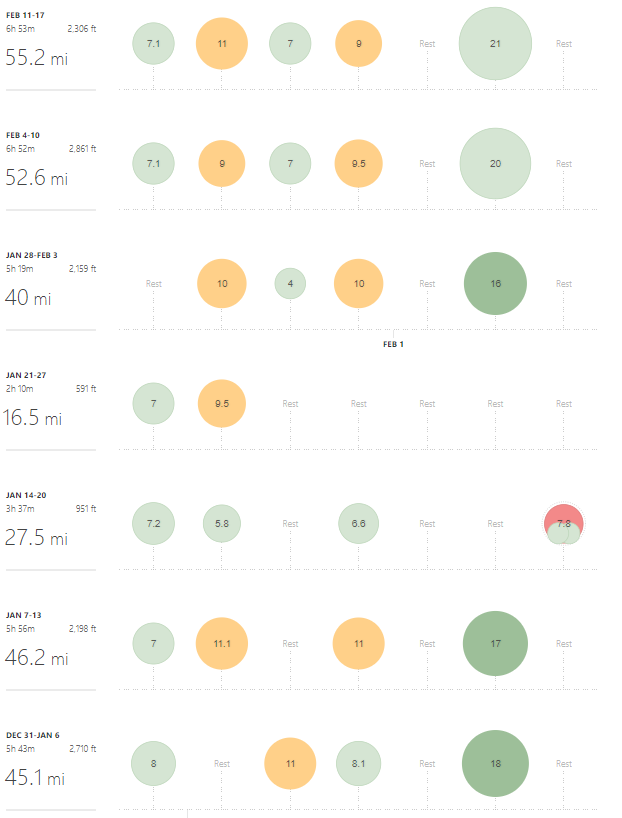 2018 has been a big, big year….not only have my my personal bests come right down, my love for the sport has grown even more….however this year hasn't been without its setbacks.
January kicked off in an awesome way with some of the most consistent training I have ever put in, last winter through to March this year was pretty much all 40+ mile weeks which is where I tend to find my sweet spot is.  That consistent training which started back in the last week of November 2017 led me to have a fantastic run at the Lliswerry 8, smashing the sub 6 minute mile pacing barrier by clocking a 47:20 over 8 miles…that's 5:55 pace!
From there I thought "this was going to be my year"….until March came around and the "Newport Half Marathon", the race I had been training for over the past 16 weeks was cancelled due to bad weather.  This was rearranged for 2 weeks later and subsequently cancelled again due to bad weather.  In a vein attempt to not let my fitness go to waste I attempted my own half marathon on our local industrial estate but to no avail, injury struck at mile 7 with an excruciating pain in my right glute.
This injury forced me to take a step back, possibly a sign from my body that enough was enough.  The previous 16 weeks were the most intense training I had done and this injury inadvertently allowed me to fully absorb all the training so when I came back onto the racing scene in May, I smashed my Half Marathon PB of 1.27.34 and came in at 1:24 at Hereford Half Marathon.  This was also the month of the OMM Marathon Lite event in my home area, the forest of dean!
The OMM event didn't go to plan, even though we came in 7th place, I was racing in 2nd place until mile 15 but a recent surge of hot weather after a bitterly cold winter took it out of me and on the day.  Other races this month were the spring mile, a one mile track race where I recorded a 5:20 mile and the fountain five, a five mile trail race in our local area….I can't remember where I came and my time but I know I twisted my ankle and that put me out of action for a week or so!
From there we headed into the summer months and took our 10k PB down to 36:41 at the summer speedway 10k, followed by the gloucester 10k a month later.  The gloucester event didn't go quite as well as the summer speedway but never the less we still came in a respectable 37:51.
Fast forward to August and we came up against the severn bridge half marathon, arguably my best race of the year.  All of that winter and summer (very hot) training had well and truly bedded in as we came across the line in 1:20:48…this was way above and beyond anything I expected as the course isn't particularly flat but on the day my body just responded well and I rolled with it!
However, it was at this stage where the downturn of the season came, stitch after stitch plagued race results…the swindon half marathon in september started this all off in style!  We were flying at sub 80 minute pace and the worst stitch I had ever had ground me to a halt…I had never walked in a road half marathon but theres always a first time for everything!  From there we managed to get ourselves through the forest of dean autumn half in 1:23:51 and the severn bridge night race & newent 9 events to round off the year, however it was not the finish I was hoping for!
I am pleased to say that we have got ourselves through the stitch issues (major muscle knots) and are now back to training 40+ mile weeks and I am feeling fresher than ever.  I cannot wait to tackle 2019 and give it my best shot!
Something I never thought I would say….I have a running coach!!
It feels odd, rather surreal but also very exciting.  As someone striving to continually learn, grow and develop in the sport of running, the internet has been a key source of information.  However, like anything, there are lots of different opinions, contradicting pros and cons and way too many "training methods" to comprehend.
Up steps Doug from TMR Coaching…and before anyone says anything, no this isn't part of any arrangement for me to write this, no i'm not being paid to write this and yes these are 100% my thoughts and feelings.  There….transparency as always!
Anyway, my development has always come from thriving on training plans, I love the routine, structure and progress that I made everytime I would undertake one.  However there was always this lack of fundamental understanding as to what I was actually doing.  Yes, I was clear that each session throughout the plan had structure, had a purpose and had its benefits, however I always felt slightly out of my depth when I was questioned about what I was doing.  My stock answer was always "my plan told me to do it".
So when Doug came on the scene and we started working together things changed rapidly.  I think the most major improvement I have found in this short period of working with him has been my improvement in the "why" I do what I do.  As a competitive runner, I strive to be better, improve my times and become more resilient to what training throws at me but as I mentioned above, the lack of knowledge has always been my downfall.
Since working together we have targeted a very weak area I have… my cadence.  Being so tall and having such a long stride I could only dream of being able to "turn my legs over" closer to the "standard" 180 steps a minute.  However, this is slowly becoming more of a reality far quicker than I could of imagined.  Recent workouts have had massive improvements, comparing a 400m rep session from a few months back to my 15 x 2 minute rep session I did just yesterday, my cadence has increased from 166 up to 172/174.
A great coach can home in on your weaknesses and highlight them too you…often we don't need to run further or faster to become quicker, but tune up our efficiency.  In some way shape or form we all have aspects of our running form that, if corrected, can shave seconds of our minutes per mile pace and result in far greater performances before any of the "harder training" even commences.
I cannot wait to build a closer relationship with TMR Coaching in the future, the first month has been a rapidly positive change and I cannot wait to continue on the journey!
Starting A New Training Cycle
It's been fantastic to look back and reflect on the running year so far…the goals achieved, hurdles overcome and the challenges that haven't quite been conquered, its all part of the journey.  Reflecting for me is an important way to digest what has been going on over the past training cycle as when i'm in it, i'm fully focused and committed to the job in hand and its very difficult to take a helicopter view of the situation unless you are physically forced to stop.
That's what i've been doing for the past week whilst running easy.  Coming off the back of two half marathons (one of which being a PR) is a very rewarding but tiring and it's always important to get re-energised as the next challenge is right around the corner.  Easy weeks are a great time to allow your body to just absorb mileage without the major stresses interval and threshold training throw at it and allow you to embrace the improvements you've made over the recent training cycle.
However I am now more than ready to get started with the next challenge, I am determined to finish this year on a high and want to push my body more than its been pushed so far in order to better myself. Running for me is a way I can go out and push hard, its something I can fully commit to and give my best in every sense whilst learning the art of patience, practicing structure and working on being more self disciplined.
This week (17/09/2018) see's me starting my new 10k plan and I am delighted to be working with Doug Stewart from TMR Coaching.  If you have followed my journey on Youtube you will know I am much better at racing shorter distances but much prefer to train for longer distances.  This is partially because I prefer the workouts of a half marathon / marathon plan but also due to where I live, I can't help but want to go out and run as far as possible every weekend just to appreciate my surroundings.  So this brings me to why I am extremely excited about starting this next block of training….
I have never really training properly for a 10k race before but I feel that due to racing so well at the shorter distance events, its worth diving in head first to a proper plan.  To clarify….. I am targeting The Newent 9 on November 17 2018, which is a 9.5k race (so just shy of 10k) but not only this, 9 days before (Wednesday 7th November 2018) is the Severn Bridge 5 Mile night race.  These two races are some of my favourites on the racing calendar, I have done them both for the last 2 years and always had great success there, however I have never gone to either of them with any specific training under my belt, so that's where this year could be much more interesting.
I am a firm believer that long distance training is of huge benefit to the shorter distance events, and the shorter distance training sets you up well when jumping into longer distance training.  This has been a recipe of success for me most of the time but I have never committed to more than 6 weeks of shorter distance training at a time, which is why I am super excited to see what I can do at these upcoming races and also see how it will benefit me come January when marathon training starts.
I will be working with Doug up until these races and hopefully beyond if all goes well.  I would like to continue the shorter distance work right up until Christmas, schedule in a nice break over the festive period then jump straight into marathon training come January.
I am excited, very very excited.  Call me weird, odd, strange, whatever else you can think but I really cannot wait to dive into this plan head first, finish the year strong and come out the other side of these races in the best shape i've ever been.  Time will tell…..
Training Through The Summer…A Success?
This summer saw the UK have one of the best heatwaves we have had in a long time….and still as I type this, the lack of rain we've had is very unusual.  We mustn't complain, it's been a while since we can say "we've had a decent summer", I think when we look back on 2018 at the end of December we can certainly use this phrase.
As for running, the heat has made it slightly more challenging but I made a point of getting out in it, not letting it stop me and tried to embrace it as I knew it wouldn't last forever.  So as I look back on this summers training with the first day of Autumn tomorrow, can I say its been a success?  With a 10k and Half Marathon PB under my belt I think we can say it's definitely been a scorcher, but it hasn't been all cupcakes and rainbows.  Let's dive in…
Initial Heat Struggles
So as with most of us UK runners,we don't do so well in the heat. When it initially landed you could smell BBQ's everywhere you walked, suddenly vests and flip flops started appearing in the streets and the threat of a hose pipe ban was mentioned on numerous occasions.
I made a point of getting out in the heat and did this very cautiously. I started off by walking everywhere, ensuring 2 miles were covered per day on foot in the first week.  Each run that week was also done early morning or late evening to stay out of the heat.
Week 2 rolled around and I got more confident, attempting my easy runs in the midday heat.  At the time it was a struggle but by the end of the week I felt like I was running with a turbo booster on my back.  The days when we had slightly cooler weather I felt like I was flying and I knew how important heat training can be for endurance work.  As I don't live anywhere that would allow for good altitude training (as with 99% of the UK) I knew this would be a great alternative.
By week 3 the heat wasn't even a concern and I continued my training as per normal, racking up the mileage again to my normal 40/50 miles and we were back to normal.
To Hot For Racing
So early June just before the heat wave started I clocked my new 10k PB of 36.39 at the Summer Speedway in Beachley, Chepstow. With Gloucester 10k in July a few weeks later I eyed another strong performance, unfortunately this wasn't to be. Although it didn't affect training anymore, racing in these hot conditions was brutal and at 9am it was already 24 degrees and rising…I came in over a minute slower than I had a month before and only 6 seconds quicker than last years time.
As a competitive person and someone always looking to better themselves…this was a tough pill to swallow.  I felt like my training had been great and I was really well adapted to the heat but as I stated above, racing in it was just a step too far.  It has certainly made me hesitant of racing in the summer next year.
Stop And Start Throughout August
I thrive on routine so for me my normal 40/50 mile weekly target is my bread and butter of my running week.  However when it comes to school holidays and someone who has two children in primary school, its a time of the year when we have to change and adapt…mould our routine around holidays and day trips or just miss the odd run here and there.
This isn't something I take lightly….I appreciate there are bigger things in life as a very amateur runner but routine is everything to me so to see some weekly mileage totals around the 30 mark and others at 50 annoys me slightly!! I know it might sound petty to some people but I know my body thrives on a solid 7/8 week training block of 40+ miles so I know I could of got more from myself this summer.
Having said that, it's been the best summer i've had with the family and I wouldn't trade the lack of running (despite my moaning) for anything.  Our children are only young once so its important to make the most of their time off.
Final Thoughts….
To achieve a 10k and half marathon PB this summer has been something I couldn't of imagined…I always believed we race at our peak in spring and autumn but this summer has proven otherwise.
I am keen to finish off the year strong now with some more hard work before we jump into marathon training in January.  Winter for me is my best time of year to train but I am determined to make this Autumn just as successful.  I still have that fresh taste of success and I want more.
Running Training 12/12/2016 – 18/12/2016
So this is the last "training" week, next week there will be some casual easy running but this week is about finishing strongly and getting some good volume in.  To be honest, I am still buzzing from last weeks race so I was more than up for some intense workouts this week!
Monday
Tempo Run – A better week this week, not the best but certainly consistent and steady.  I never hit the heights of what I can achieve on these morning sessions but that's because I never eat properly so I go into it under fuelled, but I prefer this because it gets me used to running quicker on less fuel.
Tuesday
8 x 800m reps – Today I really wasn't feeling the workout, I knew from rep 2 that this was going to have to become a "grinding" session.  What didn't help is that James had just come back from a weeks break so he was fresh, ready to go and leaving me in his dust!  However I was delighted to record 8 of them as I really didn't think I would manage it.
Wednesday
Rest
Thursday
Workout Day – 3 x 2 mile repeats were on the cards and wow did we improve from last time.  Our first attempt at these 6 weeks ago were in the range of 12.50 for two miles, however this time we clocked 12.30, 12.29 & 12.24.
From the off, James and I decided we needed to up the pace from last time to get ourselves into the right zone but again, this completely exceeded my expectations.  These reps were done at an average of 6.12 / 6.15 min mile pace.
A great last and quality workout to finish the year on.
Friday
Rest
Saturday
Finished the week off with a nice 17 mile long run.  Unintentionally ate a very "protein" heavy day on the Friday, finished with an omlette & vegetarian sausages for dinner so I was feeling very depleted of energy by this morning.  Again, like Tuesday, I decided I needed to grind this out as it was going to be the last long run of 2016 so I pushed for 17 miles.
Sunday
Rest
Summary
Delighted with this weeks training, couldn't of asked for more.  A couple of occasions I had to push hard to grind out what needed to be done but a very satisfying feeling completing a 40 mile week.
Running Training 05/12/2016 – 11/12/2016
So we are into the last couple of weeks "intense" training before a well earned week off over Christmas and this week, we booked a last minute night race entry for Wednesday evening. Therefore due to this I decided to have an easier week so I could really push myself to the limits of what I am capable of over a shorter distance.
Monday
Rest
Tuesday
Today I just went out of an easy 6 mile run, just to get the legs moving but not wanting to put any more stress through them than I needed too. All in preparation for tomorrow night.
Wednesday
Severn Bridge 5 Mile Night Race – As mentioned above, I was really looking forward to testing my legs over a shorter distance and see how this years training has helped my shorter distance speed. After last months "Newent 9 Race", I had high hopes this for this race.
The race was at 7.15pm and it was a short and sweet 5 mile race over and back across the Severn Bridge. Luckily, the weather was perfect, it was cold but not too windy or raining….the gun went off and the 2 leaders ran off into the night, there was then a pack of 5 (which included myself) which broke away within the first quarter of a mile. Slowly over the first mile I managed to get myself up to 4th place and tag along with 3rd….we ended up exchanging places over the next 3 miles but neither of us could shake each other.
The final mile proved that he had stronger legs than I did and on the final climb he pulled away and finished 9 seconds in front of me. Chatting after the race he was a great chap and we ended up pushing eachother to a new PB, which is what is so exciting about racing!
The final result was a 4th place finish in 30.11 (6.11 min mile pace) over 5 miles!
I am absolutely delighted with this result, I could never of dreamed to of run a 6.11 min mile pace over 5 miles at the beginning of the year, training in this second half has really paid off.
Thursday
Rest
Friday
Rest
Saturday
Rest
Sunday
Long run – I ended up resting for most of the week after the race and work has been crazy so I thought I would just save my legs for the final day of the week and get in a super quality long run of 15.5 miles and a nice easy pace.
Summary
A quieter week on the running volume but that was made up for by having a last minute….and awesome race! Final "intense" week next week before and easy week then finish up for a nice week off!
Running Training 28/11/2016 – 04/12/2016
Week 9….where are the weeks going!  I had so much I wanted to get done before Christmas and time is slipping away.  This week the routine was disrupted a bit but not as much as last week, we got all the key sessions in we needed to and finished strong with an awesome 18 mile long run.
Monday
Tempo run….I went back to and older hilly route that I haven't done for a few months… for me its a leg strength builder as you are pushing super hard up hills and flying down them.  To my delight I managed to clock a PB on the route of over 30 seconds!
Tuesday
13.1 easy spin on the bike
Wednesday
12 x 400m reps!  Did a great warm up, rep session and cool down….the pleasing thing was that thanks to James, we worked out the difference in pace & HR compared to our last 400 session 6 weeks ago and the averages have dropped.  His dropped moreso than mine but I managed to get my average pace down from 1.22 to 1.18.  It must be said though that the session started slowly with the cold night, clocking the first few at 1.22 & 1.21…as we hit the 5th rep I managed to get a consistent run of 4 x 1.18 done and peaked at a 1.16, which is awesome!
Thursday
Workout day!  I do not normally do a workout straight after a rep session and I had no intention of doing that either….I stepped out of my front door ready for a nice easy run and thought it was too cold to run slow… so thought I would aim for a threshold pace….after 3 miles I realised I got quicker….6.41, 6.33, 6.27 so just thought I would blast the last mile in 5.59 and finish on a small but effective 4 mile progressive run.
Friday
Rest
Saturday
Rest
Sunday
Long run!  Today I just went out fully fueled and ready for anything.  I decided before I left I just wanted to see how far I could run comfortably and although the last mile was a bit of a struggle home, I managed to clock a solid 18 miles, the highest so far of this winter training block.  The key thing about today was the ave pace was 7.48 and the ave HR was 148, which is insanely low compared to what it has been.  This all goes to show that training is working very well!
Summary
Delighted with this week, especially the long run.  The long run showed me on the stats that i'm really improving my running efficiency and that these rep & workout sessions are paying off hugely.  Two more weeks to go until we have a week off for Christmas!
Running Training 21/11/2016 – 27/11/2016
Week 8 was upon me and I was getting back into the swing of things quite quickly…. after the easy week we recently had, the workouts were feeling fresher, the heart rate was dropping and the pace was getting quicker!  Having said that we had to substitute 2 runs this week for spins on the exercise bike due to an overload of work and childcare…. so the "easy runs" were done on the bike.
Monday
Evening spin on the exercise bike, another 13.1 miles were racked up!
Tuesday
Same as Monday, we had two easy days next to each other this week, both clocking up 13.1 miles!
Wednesday
AM: 3 mile tempo run….not the best tempo run we've done but consistency is key and once again we were within 4 seconds per mile of our best time….so mustn't grumble!
PM: 7 mile easy run, just went for a nice jog around town, nothing hard at all and kept the HR down.
Thursday
Rest
Friday
Rest
Saturday
Long run! Today we ventured out for 16 miles and due to the "lack of running" this week and missing a workout session I decided to mix up the long run and do 10 miles easy, 6 miles threshold.  It is a gruelling type of run that you have to grind out but im finding these types of runs are doing me the world of good in terms of being able to finish strong.
Sunday
Rest
Summary
It's always a bit frustrating when you can't get out as much as you would like to but at the end of the day we made it count this week.  Life throws things at you like work & childcare and those become the priority…we just have to make up the time when we can, hence the double session on Wednesday!